How you play
Once you pick your Christmas Combatant you are thrown into the crazy world of DECK THE HALLS. You will need to know how to make your way through the land.
Use the arrow keys to control your character. LEFT ARROW moves you left, the RIGHT ARROW takes you right and the UP ARROW makes you jump.

Make sure to avoid getting hit by the monsters roaming the streets. Jump on their heads to take them out!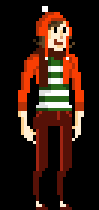 Be careful, because get hit twice and you're dead so watch yourself!

You gain more points for each powerup you collect, so make sure you find them all.